A Guide for Couples Considering a Virtual Wedding Option
January 17, 2021
• 0 Comment
2020 may have changed life as we know it, but it didn't cancel love. (All eyes are on you, 2021. Don't let us down.)
Even in the midst of a pandemic, you can still have the wedding day of your dreams. Thanks to technology and a little creativity, you can still celebrate your union with the people you love. We helped many of our 2020 couples virtually share their wedding day with family and friends who were unable to attend. 
Today, we're here to share what 2020 taught the The Barn at Cranberry Creek couples and staff about live-streaming options for weddings. 
A 5-Step Guide to Planning a Virtual Wedding
1. Decide on a Platform
There are a few platforms to choose from if you want to stream your wedding but Zoom and Facebook Live are two of the most popular and reliable options. Depending on the number of attendees, you may have to pay a fee for Zoom. If you use Facebook Live, simply create a private group people can join. With both options, you're able to save your video to enjoy those special moments again later. You should explore the pros and cons of both platforms before choosing which is the best fit for your big day.

We've helped our clients stream their weddings via Facebook Live several times. It's worked very well and their guests were appreciative and interacted the entire time. (This videographer confesses to crying more than once while reading the comments!) Keep in mind, you can stream Live throughout the evening. Don't forget to capture those other special moments – first dances, toasts, speeches, cake cutting, the sparkler sendoff… 
2. Have or Hire the Right Gear
If you want to plan a virtual wedding option, you're going to need the right gear. We can't stress this enough. A laptop or tablet with a good camera or a phone and a tripod are a minimum of what you will need to stream your wedding. Whatever setup you have in mind, be sure to test it before the big day, and be realistic about the results you'll get. If you want polished and professional results, you're going to need to consult a professional videographer or a wedding pro who offers streaming services. Worth noting, your audio quality will only be as good as the sound system. Lapel mics for the couple and officiant or a standing microphone is a must. 
Don't forget about wifi! At The Barn at Cranberry Creek, we have several wifi networks located throughout our property. Despite a great system, we've found you can only go so far out toward the ceremony before signals begin to drop. Another reason why it pays to have the right gear and plan ahead!
3. Let Your Vendors Know
Even with the size of weddings scaled down, vendors are still working their magic behind the scenes. While your caterer probably won't be impacted by a virtual wedding day element, your photographer and videographer will. They need to know in advance you intend to stream the day. Ever watched wedding photographers and videographers do their thing? Their mediums require method and precision and you want to make sure your streaming equipment isn't in their way. Your wedding planner or coordinator needs to know this information as well. 
4. Let Your Guests Know 
If you still love the idea of wedding invites for virtual attendees, go for it! There are a number of websites that allow you to create digital wedding invites that can be emailed to your guests. Just remember to include the link to your Zoom or Facebook group.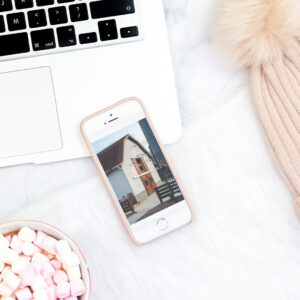 You may also want to add in some extra information such as how guests can mute their videos during the ceremony.
If you will be capturing screenshots, let your guests know so that they can dress accordingly. If you want to send off a few small gifts to guests, get them to RSVP as they usually would. A virtual element can be a fun addition to your wedding day!
5. Prepare for Your Big Day
Along with testing your equipment, make sure that you have an appropriate backdrop. You will also want to check times and delivery dates with your vendors to make sure all is in order. We suggest doing a trial run if you plan to stream your wedding day. We've set up a "rehearsal practice" group for our clients so they don't have to stream to their official wedding day group. 
You're all set!
Now that you're ready to say those I Dos, don't forget to hit record and enjoy every second of your special day together. Remember, there will be plenty of time to celebrate in person with those you love once the pandemic has passed. Health and safety are priority, but with a live streaming event, you can have the best of both worlds!
Email us at The Barn at Cranberry Creek if you'd like more information on live-streaming your wedding day. We're always glad to help!